Support Main Street Murfreesboro on Giving Tuesday
---
Main Street Murfreesboro's mission is "To maintain, enhance, and promote the historic downtown as the heart of our community." Just a few of the ways Main Street does this...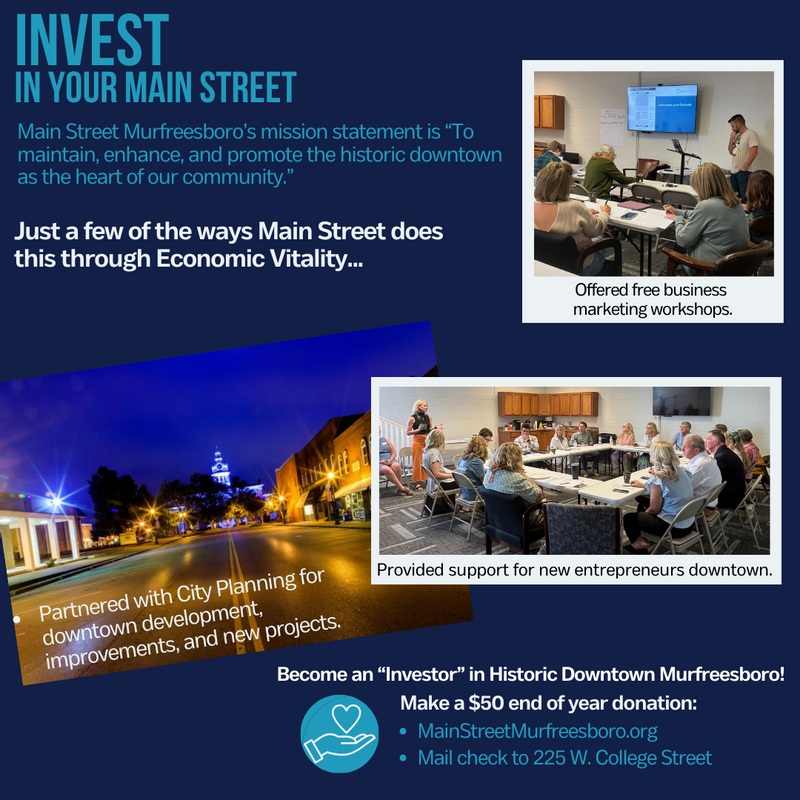 Design
Advocated for historic preservation downtown.
Awarded grants for facade improvements to businesses.
Partnered with City for Wayfinding project.
Consulted with property owners on renovations.
Economic Vitality
Offered free business marketing workshops.
Provided support for new entrepreneurs downtown.
Partnered with City Planning for downtown development, improvements, and new projects.
Promotion
Purchased billboard for downtown tourism.
Created & printed downtown maps for businesses.
Offered marketing for downtown businesses & events.
Events
Plan and market "Sip, Shop, and Stroll" activities (quarterly)
Spearhead "Scarecrows Downtown" (Oct.)
Organize "Friday Night Live Series" (4 summer concerts)
Manage the Murfreesboro Saturday Market (May-October)
Plan "Celebrate Christmas" the Annual tree lighting (Dec.)
Create "Taste of Rutherford" fundraising event (July)
Partner with "The Boro Art Crawl" (quarterly)
Secured grant for Seward Johnson "Sculpture tour" downtown
Become an "Investor" in Historic Downtown Murfreesboro!
Make a $50 end-of-year donation to Main Street by
Mail a check to 225 W. College Street Murfreesboro, TN. 37130
Text MainStreet2023 to 53-555