Main Street Murfreesboro brings five Seward Johnson Sculptures to the historic downtown.
---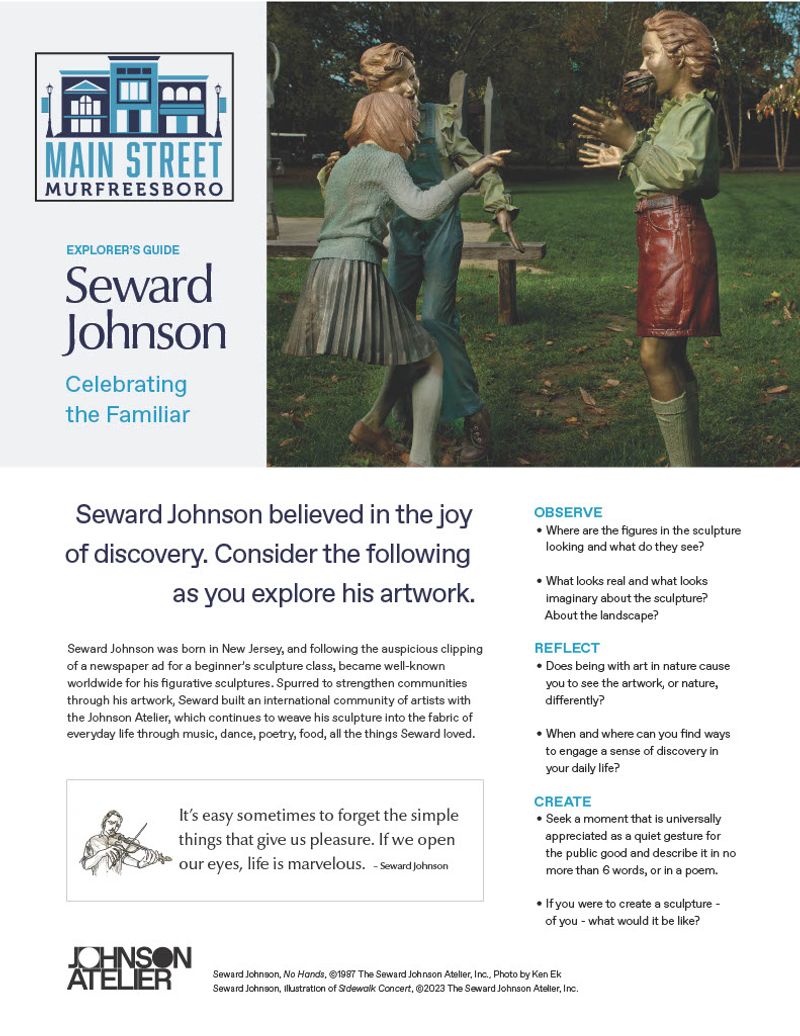 Seward Johnson sculptures, through the Johnson Atelier, weaves artwork into the fabric of everyday life.
Main Street Murfreesboro received a grant from The Tennessee Arts Commission and matching funds from Redstone Federal Credit Union to bring five temporary sculptures into the historic downtown community for three months. "We are honored to have five Seward Johnson Sculptures in Murfreesboro, which showcase the different aspects of our life including art, music, working, dancing, and taking time to enjoy the beauty around you," states Sarah Callender, Executive Director of Main Street.
Five locations were secured to host the temporary sculptures including the Discovery Center, Linebaugh Public Library, Oakland's Mansion, the Center for the Arts, and a private grass lot on the public square across for the Rutherford County historic courthouse.
The Seward Johnson Atelier, Inc. (known also as "TSJA" and the "Atelier") was incorporated exclusively for charitable and educational purposes within the meaning of Section 501(c)(3) of the Internal Revenue Code; particularly, to promote the appreciation of, and education about, sculpture and public art in general, primarily thorough the creation, maintenance, sales and public placement of J. Seward Johnson, Jr.'s artwork, as specified in its Certificate of Incorporation. TSJA integrates sculpture into the fabric of everyday life and promotes the appreciation of sculpture and public art by producing authorized limited-edition castings of sculpture by Seward Johnson for both sale and exhibition. TSJA is the exclusive owner of copyright in Seward Johnson's sculpture and is committed to educating the public about his artistic legacy. TSJA has received a gift of a collection of Seward Johnson sculptures, and it will continue to produce and sell sculptures, with the proceeds of sales, exhibitions and licensing being devoted to sustaining TSJA and its charitable and educational programs.
"It's easy sometimes to forget the simple things that give us pleasure. If we open our eyes, life is marvelous." Seward Johnson
While looking at the sculptures:
OBSERVE - "Where are the figures in the sculpture looking and what do they see?" "What looks real and what looks imaginary about the sculpture? About the landscape?"
REFLECT: "Does being with art in nature cause you to see the artwork, or nature, differently?" "When and where can you find ways to engage a sense of discovery in your daily life?"
CREATE: "Seek a moment that is universally appreciated as a quiet gesture for the public good and describe it in no more than six words, or in a poem." "If you were to create a sculpture-of you- what would it be like?"
Each sculpture evokes different emotions for viewers.
"CREATING" located at Oakland's Mansion. Seward Johnson always encouraged people to find their creativity outdoors. What do you think this sculpture is sketching? Does being outside change how you create?"
"MONET, OUR VISITING ARTIST" located on the public square near Shacklett's Photography on the corner of Church and Main Street in front of Bank of America. This sculpture was created as an homage to Claude Monet (1840-1926) painting "Terrace at Sainte-Adresse," and was originally entitled "Copyright Violation." The bronze figure has since been shown "painting" other inspired scenes in an "art imitating art imitating life" scenario. Here in Murfreesboro's public square, Monet captures a scene of the Rutherford County historic courthouse and vibrant downtown.
"NO HANDS" located at Discovery Center at Murfree Spring. Seward Johnson believed in celebrating the little things, little things worth commemorating in a sculpture, like enriching friendships or playing with food. Are there little things that you celebrate?
"SIDEWALK CONCERT" located at The Center for the Arts. Do you think this sculpture's facial expression is a result of an involuntary reaction to concentration, emotion, or nerves? What do you think he is playing? Did you know that the face on the money in the case is of the artist?
"WEEKEND PAINTER" located at the Linebaugh Public Library. Fun fact: All Seward Johnson sculptures start as an 18 inch plasteline maquette with metal armature. The figure is this space is enlarged to life size.
Notes the artist: "I've chosen to sculpt 'real life' because in our busy society - filled with so much technology and idle distraction...the human spirit triumphs, if only for moments in a day. I try to have my work call attention to those moments."
The secret behind the scenes of these sculptures coming to Murfreesboro.
Main Street Murfreesboro wanted to provide a new visual arts experience through temporary outdoor sculptures that would strengthen social networks through community engagement and provide a 'sculpture tour' in the historic downtown district, connecting placemaking locations for tourism and educational experiences centered around public arts. This project will enhance our community's identity through creative placemaking and development of natural resources using public art and connecting local attractions, including The Discovery Center, Oakland's Mansion, the Linebaugh Library, The Center for the Arts, and the historic downtown public square.
Who is the artist Seward Johnson?
Seward Johnson was born in New Jersey in 1930 and subsequently lived in London, Paris, and Bermuda. Johnson's earliest artistic efforts were in painting but as his aesthetic developed, he gravitated more toward sculpture. Having no formal training beyond a series of classes in Cambridge, MA, his first cast work of sculpture won the Award in Steel Art competition which included 7,000 entries. Now famous worldwide for his life-size bronze figurative sculptures, Seward Johnson's works are exhibited internationally and are included in private collections, museums, and public art collections too numerous to mention. Johnson's body of work consists of three distinct series: the Celebrating the Familiar man on the street works, the collection called Icons Revisited based upon images in the collective unconscious, and the Beyond the Frame series inspired by Impressionist paintings. He has completed a series of over 30 works based on Impressionist and Post- Impressionist masterworks. "I want my work to disappear into the landscape and then take a viewer by surprise. After he gets over the shock of being fooled, it becomes an emotional discovery. Then he owns the sculpture. People often revisit their favorites. They become like friends," Seward Johnson.