Main Street Murfreesboro Saturday Market - August 26th Newsletter
---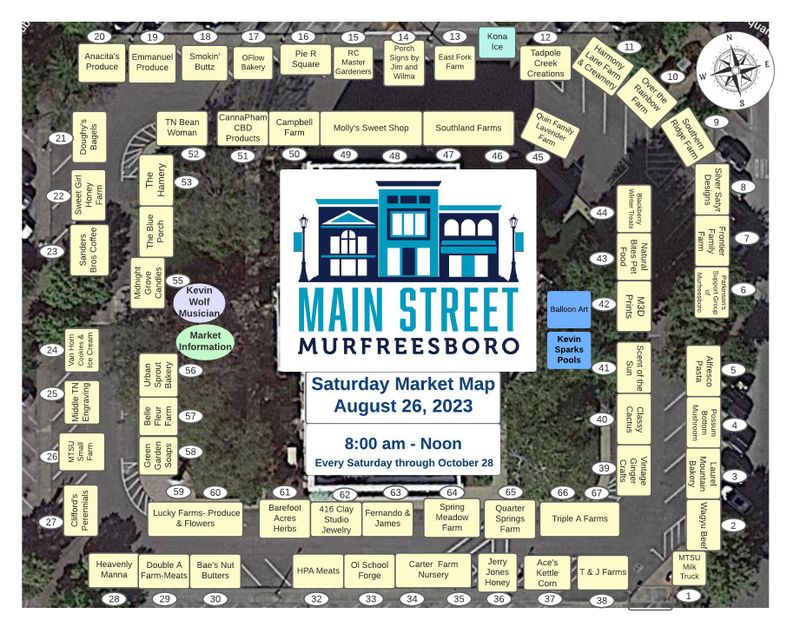 SEE SOMETHING THAT INTERESTS YOU?
Drive on over to the Murfreesboro Square this Saturday from 8-Noon and pick up fresh produce and more. Music this week by Kevin Wolf.
MEET OUR MARKET SPONSOR
We are pleased to welcome back Kevin Sparks Signature Pools as our sponsor for this week's Saturday Market. Once again, they are providing complimentary balloon art from Stan, our favorite market balloon artist. Stop by their display to learn more about custom pools and request a balloon creation from Stan.
MARKET SURVEY IS OPEN
We are always trying to improve the Main Street Saturday Market, and getting information from customers is important in that process. We hope you will take our customer survey. You can follow the link or use the QR code. Thank you.
Look for our QR Code posted around the Market. Scan it. Take the Survey. You are entered in the customer survey $15 drawings. Ask your favorite vendor about the scan.
https://forms.office.com/r/VQ3dET9hUz
SHOP WITH THESE VENDORS THIS SATURDAY
The Market is open from 8-Noon through October 28. Most vendors take credit cards, debit cards, or Venmo. And if you come hungry, we have plenty of ready-to-eat foods, and if you are looking for unique items, we have talented local artisans. This week the Parkinson's Support Group of Murfreesboro is giving out information about their support group and about Rock Steady Boxing, an exercise group for people diagnosed with Parkinson's Disease.
Be sure you follow us on Facebook and check out the Market page on the Main Street website.
Saturday Market Sponsor Application