The Boro Art Crawl Chalk Contest
---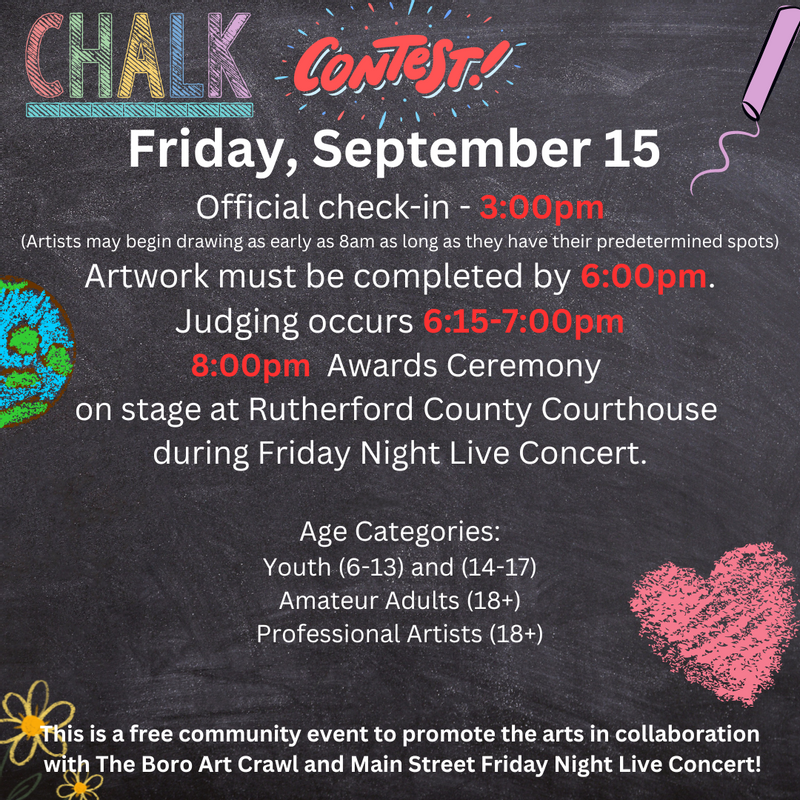 3:00pm- 𝑶𝒇𝒇𝒊𝒄𝒊𝒂𝒍 𝒄𝒉𝒆𝒄𝒌-𝒊𝒏
(Artists may begin drawing as early as 8am as long as they have their predetermined spots)
𝐀𝐫𝐭𝐰𝐨𝐫𝐤 𝐦𝐮𝐬𝐭 𝐛𝐞 𝐜𝐨𝐦𝐩𝐥𝐞𝐭𝐞𝐝 𝐛𝐲 𝟔:𝟎𝟎𝐩𝐦.
6:15-7:00pm - Judging occurs
8:00pm Awards Ceremony on stage at Rutherford County Courthouse during Friday Night Live Concert.
Age Categories:
Youth (6-13) and (14-17)
Amateur Adults (18+)
Professional Artists (18+)
𝐏𝐫𝐢𝐳𝐞𝐬:
1st place Early Youth
1st place Older Youth
1st place Amateur Adult
1st place Professional Artist
Gift cards will be awarded to winners.
𝐀𝐫𝐭𝐢𝐬𝐭𝐬 need to bring
𝐀𝐫𝐭𝐢𝐬𝐭𝐬: Bring your own - chalk, design, knee pads, grid/pattern, other appropriate drawing materials.
𝐑𝐮𝐥𝐞𝐬:
Only non-oil based washable chalk may be used.
Designs must not exceed assigned chalk space.
All artwork must be appropriate for public viewing by all age groups.
No political messages, words or symbols intended as advertising or promotion may appear.For inclement weather, you will be notified of event cancellation.
𝙀𝙑𝙀𝙉𝙏 𝙊𝙍𝙂𝘼𝙉𝙄𝙕𝙀𝙍𝙎 𝙃𝘼𝙑𝙀 𝙏𝙃𝙀 𝙍𝙄𝙂𝙃𝙏 𝙏𝙊 𝘿𝙄𝙎𝙌𝙐𝘼𝙇𝙄𝙁𝙔 𝘼𝙉𝘿 𝙍𝙀𝙈𝙊𝙑𝙀 𝘼𝙉𝙔 𝙄𝙉𝘼𝙋𝙋𝙍𝙊𝙋𝙍𝙄𝘼𝙏𝙀 𝘼𝙍𝙏.