Main Street Murfreesboro Saturday Market - August 12th Newsletter
---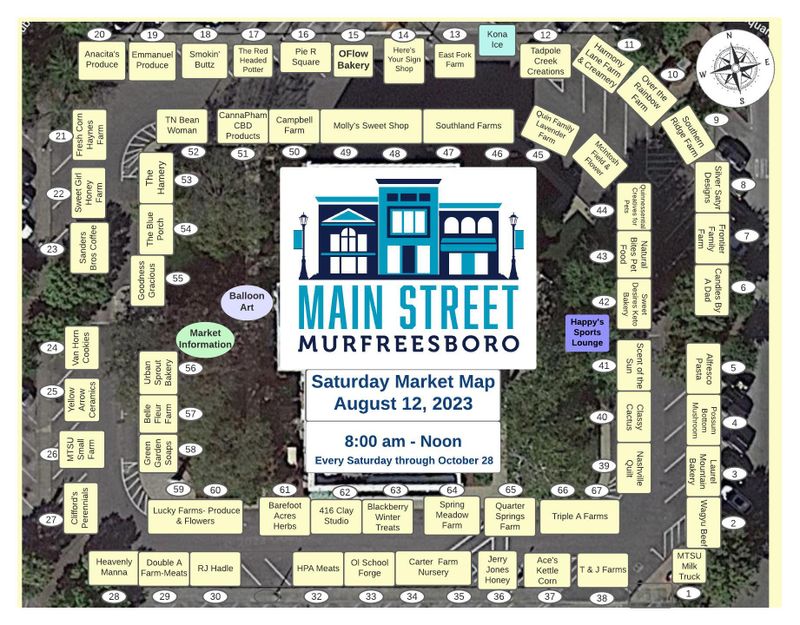 CELEBRATE NATIONAL FARMERS MARKET WEEK
For 26 weeks, from May-October, the Saturday Market offers customers a variety of fresh products and handcrafted items from 63 weekly vendors. Our farmers, growers, makers, and bakers work long hours to bring you quality products. For our vendors, the market is one important way for them to sell their products directly to customers.
MEET OUR MARKET SPONSOR
We are excited to have a new sponsor, Happy's Sports Lounge, with us this week as we celebrate National Farmers Market Week. Visit their webpage happystn.com to find out more about all the family fun they offer.
Farmers Markets are important in stimulating local economies in much the same way local businesses are important to a community. Main Street Murfreesboro and the Saturday Market encourage you to shop local and support our local businesses.
THIS WEEK AT THE SATURDAY MARKET
If you are looking for summer produce, then this week has a bounty of tomatoes, squash, cucumbers, and fresh corn. And, did we mention watermelons? Two local ceramic artists Yellow Arrow and the Red Headed Potter will be back at the market. Jewelry by Christina at 416 Clay Studio and handcrafted weaving and fabric arts from R.J. Hadle are on the schedule. Candles by a Dad is back this week, and Quinessential Pet Creatives is a fashion stop for your pets. Sweet Desires Bakery and Natural Bites have pet treats! Lavender is in season, so it's time to buy fresh bundles. Ask East Fork Farms about the benefits of worm castings. Wood signs, freeze-dried treats, and fresh bakery items are can't miss stops this week.
SHOP THIS SATURDAY
The Market is open from 8-12. Most vendors take credit cards, debit cards, or Venmo. And if you come hungry, we have plenty of ready-to-eat foods available.
Saturday Market Sponsor Application