Main Street Murfreesboro Saturday Market - August 5th Newsletter
---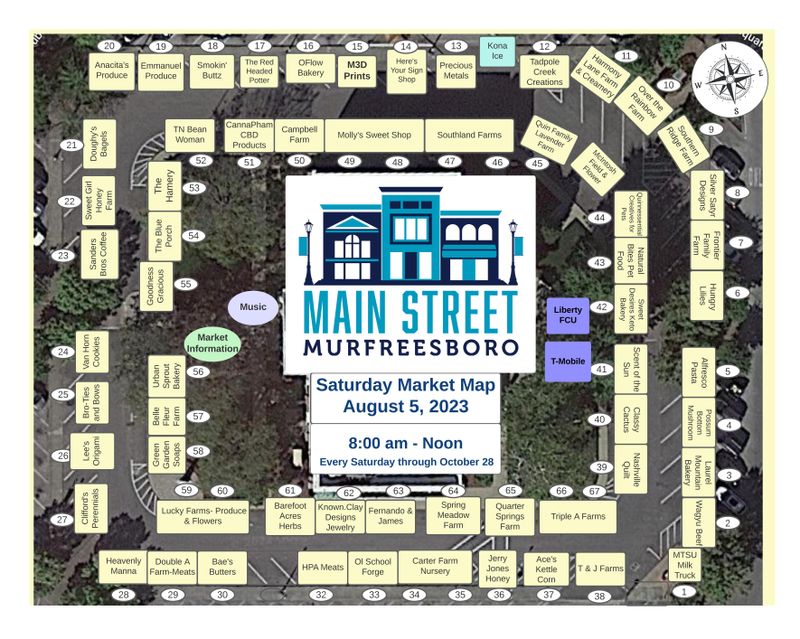 THE MARKET EXPERIENCE
The Saturday Market offers fresh food and original crafts by local artisans, but more than that it offers a farmer's market experience. The market is a family affair. Friends meet up and browse the 67 vendor tents plus listen to music, enjoy coffee and fruit drinks, and visit on the benches around the courthouse. You will always discover new foods and products. Find the "best tomato" or the perfect soap scent. Make it a family and friends day this Saturday and visit the market on the square from 8-noon.
MEET OUR MARKET SPONSORS
Stop by the Sponsor section on the east side of the courthouse and meet this week's business sponsors. These community partners help promote the value of a farmer's market and give back to Main Street's Community Events. Thank you to Liberty Federal Credit Union and T-Mobile for setting up at the Saturday Market this week.
SPOTLIGHT ON VAN HORN'S COOKIES
Sarah's cookies are a staple at the Saturday Market, so we asked her to share her story and a peek at the new cookie trailer--coming to the market soon. Follow Sarah on Facebook @Van Horn's Cookies.
"We are a local small family-owned and operated business here in Murfreesboro. Josh & I have three kids Aiden, Abriella, and Asher. I went to culinary trade school and worked in the food service industry until getting married and having children. I made my first batch of sugar cookies for my daughter's first birthday and was hooked. We opened our business in 2020 and slowly over the past four seasons have added 5 local ladies to the family to help me in the kitchen and at farmers markets and vendor events. We are so grateful to the community for supporting our dreams with every cookie purchase! We are excited to grow and serve our community more in the days ahead!"
Saturday Market Sponsor Application