Main Street Murfreesboro Saturday Market - July 22nd Newsletter
---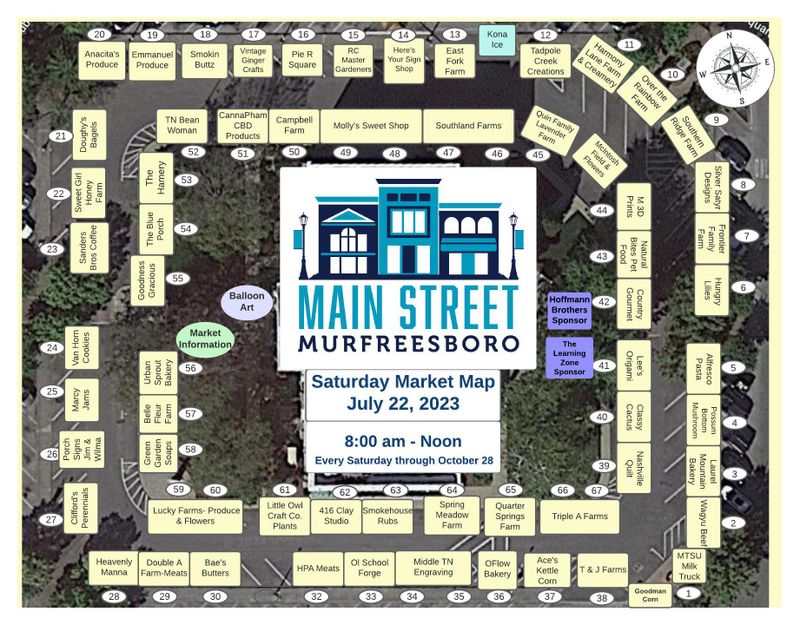 THERE'S SOMETHING FOR EVERYONE AT THE MARKET
A farmer's market is about produce, meat, and foodstuffs, but it is also about work from local artisans. This week, check out earrings from 416 Clay Studio, origami creations from Lee, and porcupine earrings from Middle TN Engraving. There's always something new at the Saturday Market-even cow balloon hats. Join us on the square from 8-Noon every Saturday through October.
THIS WEEK'S SPONSORS & MUSIC & BALLOONS
We want to say thank-you to our sponsors this week. Hoffmann Brothers Heating, AC, Plumbing, and Electrical got such a welcome from customers that they are returning for another day at the market. Welcome back! The Learning Zone is a new sponsor with us. They provide quality Child Care & Daycare in Rutherford County for children 6 weeks thru Pre-K. Stop by their tent and check out the sensory bin for children.
Market Music this week will be Sophie Buck on the fiddle. Stan will be back making more balloon art creations for young and old customers.
SPOTLIGHT ON HOUSEPLANTS
If you're in the market for houseplants this week, visit the Little Owl Craft Co. tent and talk with Trinity about plants, propagation, and display techniques. She will be bringing some of Dustin's hand-crafted, wooden plant hangers and plant propagation stations. She also has great advice on starting new plants. And for those of us who are plant collectors, who doesn't need another Peperomia?
Saturday Market Sponsor Application