Main Street Murfreesboro Saturday Market - July 15th Newsletter
---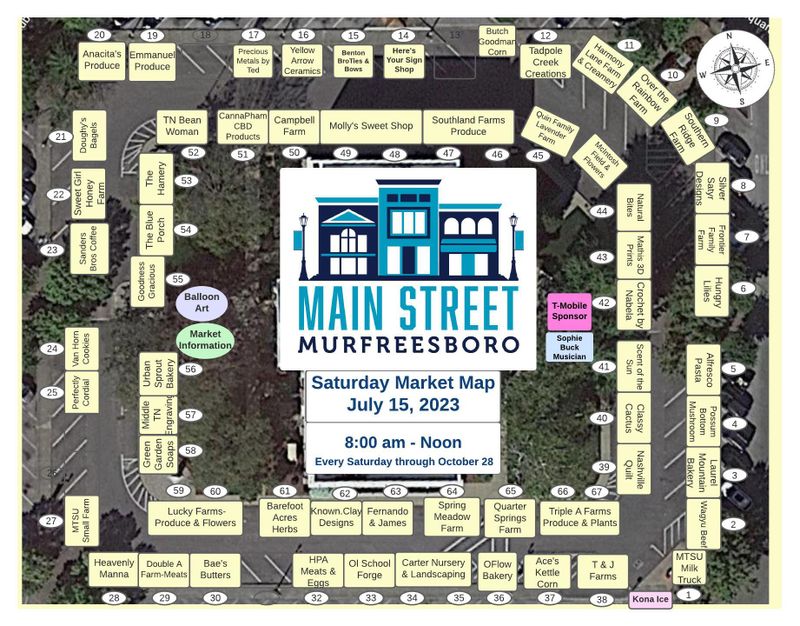 MARKET CUSTOMERS
We love sharing photos of our market customers. For the next two weeks, we will have photo displays and you may take your market snapshot as a memory of your trip to the Saturday Market. Thanks for supporting our Farmer's Market in Murfreesboro.
THIS WEEK AT THE MARKET
Peaches, tomatoes, corn, peppers, squash--you name it and we are probably selling it. July is a great time to take advantage of field-ripened produce, fresh from the farm. Our bakery vendors bring just-baked breads, cookies, and desserts, and don't forget kettle corn and fresh lemonade. Artisans this week are Nashville Quilt Co., Benton BroTies, Crochet by Nabela, Porch Signs by Jim and Wilma, Precious Metals (Ted), Tadpole Creek Creations, Silver Satyr, Yellow Arrow Ceramics, Ol School Forge, Scent of the Sun, Green Garden Soap & Bath, Known.Clay Designs, Middle TN Engraving, and M3D Printing. See you Saturday from 8-Noon.
THIS WEEK'S SPONSOR
We appreciate the local businesses who support the Main Street Murfreesboro Saturday Market and are willing to come out and meet our customers. This week our returning sponsor is T-Mobile. Please stop by the T-Mobile tent to say hello and thank them for their support of the market.
Music this week by Sophie Buck. Fresh lavender from Quin Lavender Farm. Natural mixes by Perfectly Cordial.

Saturday Market Sponsor Application