The Boro Art Crawl Sidewalk Contest
---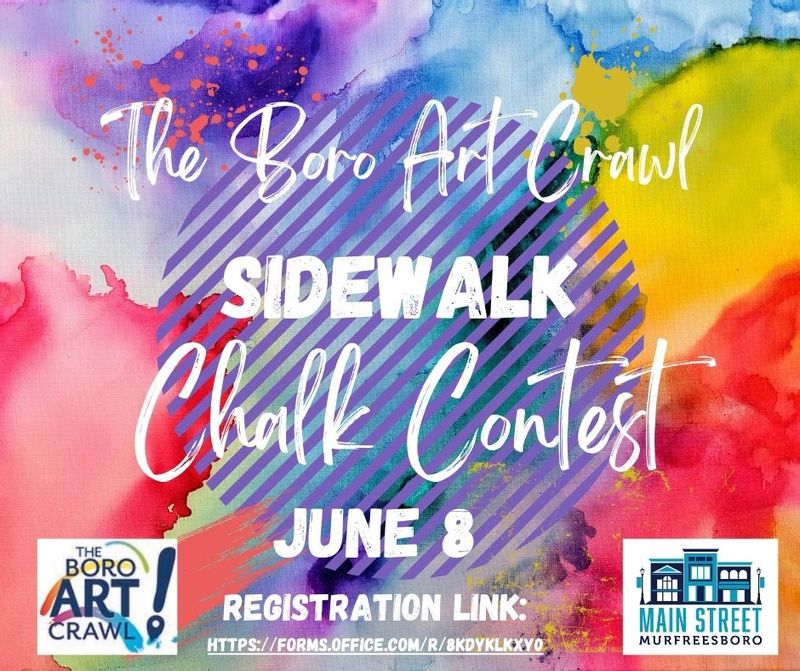 Register to participate in the first annual The BORO Art Crawl "Sidewalk Chalk Contest."
No fee for registration. REGISTRATION DEADLINE MAY 28.
Check-in starts at 3:00pm on the corner of Main Street and Church Street in the grassy lot of the Murfreesboro Public Square.
3:00-6:30pm Drawing Contest
6:30-7:00pm Judging Occurs
7:00PM Awards Ceremony
1st place prize for each age category (Early Youth, Older Youth, Adult) and Best Chalk Art Overall prize. Gift cards will be awarded to winners.
Artists are responsible for chalk, design, and supplies needed to complete work.
Rules:
Only non-oil based washable chalk may be used! Designs must not exceed the assigned sidewalk space. Space is preassigned to each artist. ALL ARTWORK MUST BE APPROPRIATE FOR PUBLIC VIEWING BY ALL AGE GROUPS. No political messages, words or symbols intended as advertising or promotion may appear. Event organizers have the right to disqualify and remove any inappropriate art.
For inclement weather, you will be notified of event cancellation.
Event is sponsored by Main Street Murfreesboro and The Boro Art Crawl.
For questions, please e-mail [email protected].
This is a free community event to promote the arts downtown!