Main Street Murfreesboro Saturday Market - August 18th Newsletter
---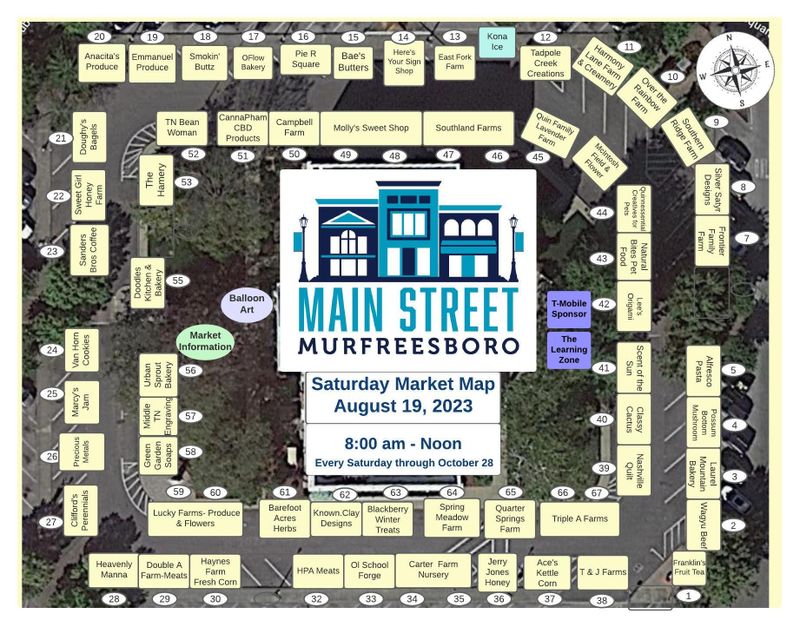 VISIT THE FARMERS MARKET IF YOU ARE LOOKING FOR . . .
Fresh produce, locally raised meats, breads, flowers, cookies, music, and incredible balloon art. The market is more than a shopping trip. It is a Saturday morning downtown Murfreesboro experience. Join us on the square from 8-Noon.
MEET OUR MARKET SPONSORS
Farmers Markets are important in stimulating local economies in much the same way local businesses are important to a community. Main Street Murfreesboro and the Saturday Market encourage you to shop local and support our local businesses while you are downtown at the market.
This week's market sponsors are T-Mobile and the Learning Zone. Ask T-Mobile about their extended 5G coverage in the Middle Tennessee area. The Learning Zone will have information about their quality Child Care & Daycare in Rutherford County for children 6 weeks thru Pre-K. They also have hands-on activities at their tent for children.
Market Music this week will be Sophie Buck on the fiddle. Stan, the balloon man, will be making more balloon art creations for customers of all ages.
VENDOR SPOTLIGHT: SCENT OF THE SUN
Scent of the Sun is a family soap company based in Gallatin, TN, and a full-time vendor at the Saturday Market. Kay Brown started the business in 2013 with her son, Rick. Their "passion for handmade, vegan creations has combined a love for beautiful designs and rich fragrances with a love for animals that manifests itself in their cruelty-free ingredients." All of their products are created and packaged by hand, and their soapmaking philosophy is simple: "to create nourishing bath goods that are as refreshing as they are beautiful."
Their vegan soaps are cruelty-free and do not use any animal products. They use a rich blend of olive oil, coconut oil, sustainable palm oil, and castor oil, complemented with shea and cocoa butters. They offer an array of soaps, bath bombs, bar shampoos, lotions, and facial soaps. New soaps this season include Honeysuckle and Eucalyptus & Spearmint. Rick and Jessica are at the Scent of the Sun tent in spot #41 every Saturday. Just follow the delightful scents. You can order online from their webpage https://scentofthesun.com.To watch their soapmaking check out this and other reels--
https://www.facebook.com/reel/125707733926580.
"Each Farmers' Market is an incubator for small businesses with big dreams. And each time you support a local farmer or artisan like us, you make our communities a little more vibrant. Thank you." Kay, Rick, and Jessica

Saturday Market Sponsor Application