THIS WEEK AT THE MARKET
---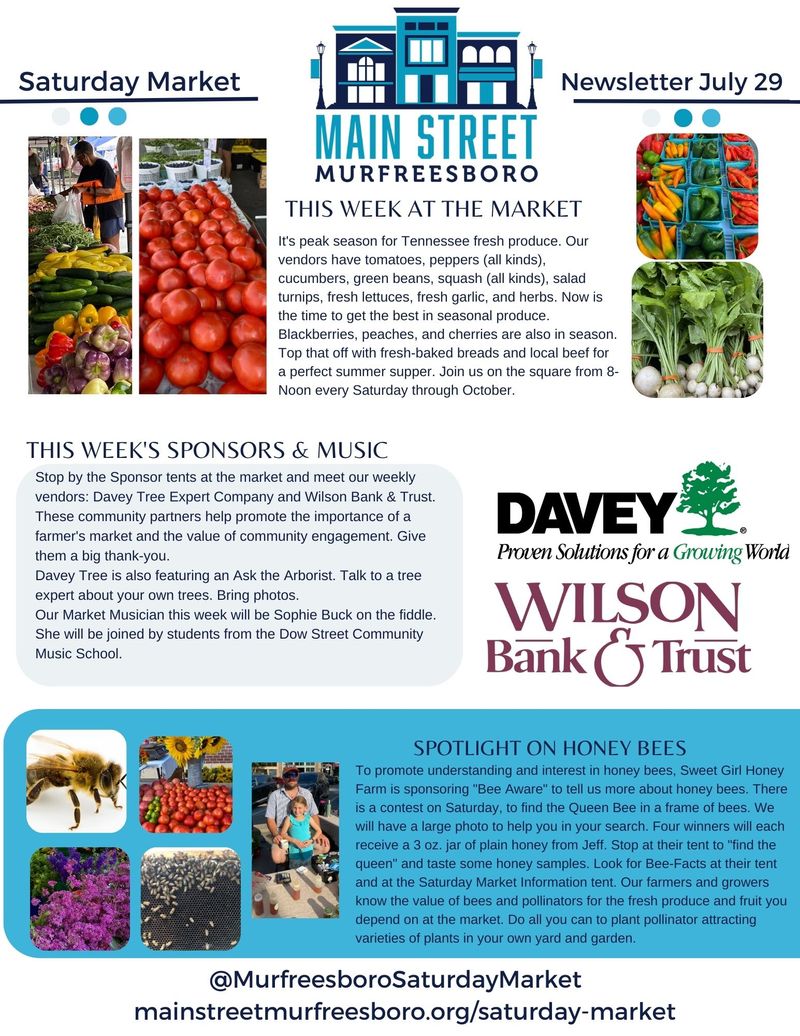 It's peak season for Tennessee fresh produce. Our vendors have tomatoes, peppers (all kinds), cucumbers, green beans, squash (all kinds), salad turnips, fresh lettuces, fresh garlic, and herbs. Now is the time to get the best in seasonal produce. Blackberries, peaches, and cherries are also in season. Top that off with fresh-baked breads and local beef for a perfect summer supper. Join us on the square from 8- Noon every Saturday through October.
THIS WEEK'S SPONSORS & MUSIC
Stop by the Sponsor tents at the market and meet our weekly vendors: Davey Tree Expert Company and Wilson Bank & Trust. These community partners help promote the importance of a farmer's market and the value of community engagement. Give them a big thank-you. Davey Tree is also featuring an Ask the Arborist. Talk to a tree expert about your own trees. Bring photos. Our Market Musician this week will be Sophie Buck on the fiddle. She will be joined by students from the Dow Street Community Music School.
SPOTLIGHT ON HONEY BEES
To promote understanding and interest in honey bees, Sweet Girl Honey Farm is sponsoring "Bee Aware" to tell us more about honey bees. There is a contest on Saturday, to find the Queen Bee in a frame of bees. We will have a large photo to help you in your search. Four winners will each receive a 3 oz. jar of plain honey from Jeff. Stop at their tent to "find the queen" and taste some honey samples. Look for Bee-Facts at their tent and at the Saturday Market Information tent. Our farmers and growers know the value of bees and pollinators for the fresh produce and fruit you depend on at the market. Do all you can to plant pollinator attracting varieties of plants in your own yard and garden.