Main Street Murfreesboro Saturday Market - July 8th Newsletter
---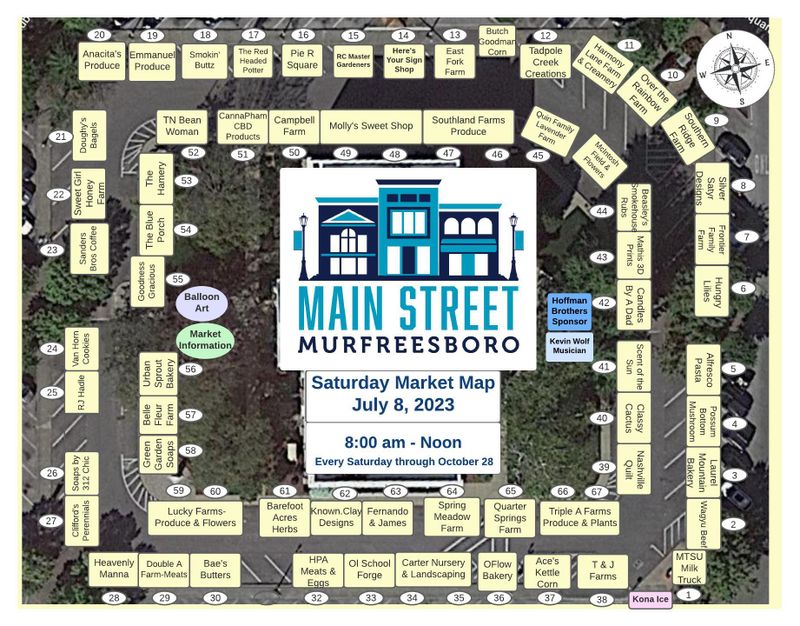 FUN AT THE MARKET JULY 8
If you remember the classic Oscar Mayer Wienermobile then this is your chance to get your photo made with the newly renamed Frankmobile. It's making a stop at the Saturday Market and will be parked in the Bank of America parking lot from 8-noon. What a flashback photo opportunity. Bring your kids and friends and line up for photos and free face painting by CEF of Middle Tennessee.
Starting at 10 a.m. the first 200 people in line will get a free hotdog thanks to KST Performance Academy & the Hot Dog Guy.
THIS WEEK AT THE MARKET
It's summertime and the livin' is easy if you shop at the Saturday Market for your in-season produce. Our farm vendors are bringing in seasonal veggies and fruits. Blueberry season is coming to an end, but peaches, watermelons, and cantaloupes are ripe and ready. Tomatoes are lining the vendor tables, so choose your favorite variety. Zucchini, yellow squash, carrots, and corn are at the peak of their season. Fresh June wildflower is honey is available now. And did you notice fresh flowers are looking great? See you Saturday from 8-Noon.
MEET A VENDOR: SMOKIN' BUTTZ
The Smokin' Buttz BBQ Food Truck was established in 2014 by husband-and-wife duo John and Mylica Cathey. The Big Jr's Sauces were created by Pitmaster John in 2019. In 2020, despite the pandemic, they started bottling their sauces and selling at local farmer's markets. Now, they have three sauces, all made with love and flavor! The Smokin' White Sauce and the Hot Buttz Sauce are hands-down crowd favorites. Stop by and see Mylica, the Sauce Boss, every Saturday at the Saturday Market and "Put Some Sauce on It." Follow them on Instagram and Facebook @smokinbuttz.
WELCOME TO THIS WEEK'S SPONSOR
This week our market sponsor is Hoffmann Brothers. They offer heating, air conditioning, plumbing, and electrical services throughout Middle Tennessee. We appreciate the businesses who support the concept of a local Farmer's Market and hope you all will stop by their tent and say hello on Saturday.
THANK YOU
It's our customers who make the Saturday Market what it is, and our vendors who bring you quality products each week. Thanks to everyone who believes in the importance of buying local and supporting local farmers, ranchers, makers, and bakers. You can follow us on Facebook and Instagram for more market photos and updates @murfreesborosaturdaymarket.
Click Here to View our FULL NEWSLETTER