Quinn's Mercantile receives Downtown Business award, 2022
---
Quinn's Mercantile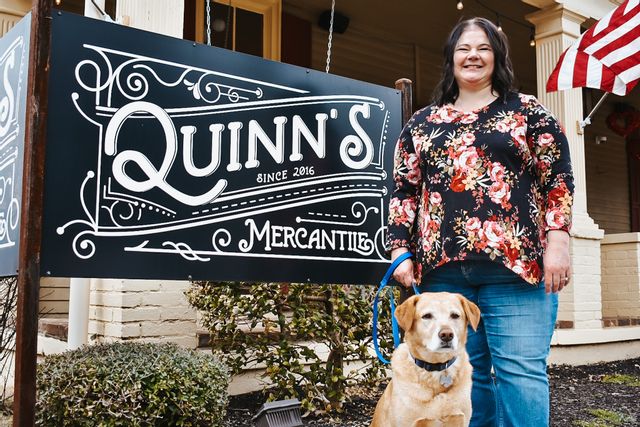 Quinn's Mercantile 301 N. Spring Street
Tracy Toy, Owner
Since 2016, Quinn's Mercantile has been located just two blocks off the square. Owner Tracy Toy has successfully grown her eclectic retail store downtown and made a priority of giving back to nonprofits and smaller entrepreneurs. Her shop employs two full time and five part time employees year-round, and many seasonal employees.
Tracy and her employees give back to the nonprofit community through financial donations and volunteering. Some of the many organizations she is passionate about include United Way, Adopt a Golden Nashville (AGN), Kymari House, Doors of Hope, Beesley Animal Foundation, Stepping Stones Safe Haven, and A Soldier's Child.
As a small shop downtown, they work hard at procuring local artists to be both vendors within their shop or to have Pop Up Shops on their front porch. They also host a variety of events each month to encourage people to come downtown. In the past they have been "Amex Neighborhood Champions" for Small Business Saturday. Typically hosting over 35 events a year in her store to bring people downtown, whether to support a nonprofit, offer a creative workshop showcasing an up-and-coming entrepreneur, or helping highlight a cause, Tracy knows how to cross-promote and bring the community together.
Located in an older building (c 1860) in the downtown area, Tracy is always doing some sort of renovation. Investing in the beautification of the downtown and the history of the building has put Quinn's Mercantile on the map. In 2022, Quinn's had visitors from all 50 states and 17 countries in the store, due in part to her active website and social media presence. Tracy promotes other stores downtown and is a proud supporter of the Main Street program. Quinn's Mercantile is an excellent example of a small downtown business that gives back to the community, promotes entrepreneurship among smaller startup businesses, and supports the historical downtown business community!

Click an image below to display the larger version.